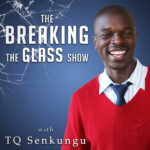 [smart_track_player url="http://traffic.libsyn.com/tothelimit/This_is_The_Foundation_to_My_Effort_in_Helping_People_of_Color_Get_Ahead.mp3″ color="#1e73c2″ image="https://cdn.breakingtheglass.com/wp-content/uploads/2017/09/podcast_channel_artwork-150×150.png" social_linkedin="true" social_pinterest="true" social_email="true" twitter_username="tqsenkungu" ]
My big hairy audacious goal is to help radically improve the opportunities and performance outcomes of people of color in America and the world. We face obstacles not faced by everyone. Some are put up by others from the outside, some are sself-inflicted some are structural and there is still much work to do in order to make progress.
Where I Come From
I've been Black all 41 years of my life. And I'm dark with 20+ generations of Ugandans in my blood so there's no mistaking me for anything else. But I think I've experienced discrimination or racism maybe 2 or 3 times and most of those have been within the past 10 years. People don't always believe me when I say it, but there it is.
Over the course of my life, I've developed more of a "pull yourself up by your bootstraps" kind of perspective for my peers who've struggled to get ahead. As a person who was born in Uganda and came to this country as a child refugee with our lives in two suitcases, I was shaped into thinking that it's possible with hard work and a good education to overcome whatever challenges exist and succeed in America — the free market capital of the world.
I've spent way too much time on social media and in person arguing about Black, brown and white issues for years. I mostly spoke on issues regarding Blacks and how to overcome them because that was my experience. And I was squarely of the position that most of the issues that we face could be solved if we worked on them internally no matter what other races or the government did or didn't do.
I Started to Listen to the Voices of the Struggle
Then things took a turn. First I had some seriously contentious discussions around the 2012 election and the issues around race and our first Black president. Then I participated in several exchanges around the police brutality issues in 2014 and 2015 culminating in the riots in Baltimore and Ferguson.
Many of these discussions were led by a good friend, Montoya Smith, who runs Mental Dialogue. We used the police brutality issues to lead into talks around race, education, mass incarceration, fatherlessness, bias, racism, and so much more. I had read many books and articles by people like Thomas Sowell and Walter Williams that mirrored my conservative perspective on these issues. Smitty pushed me to read books or articles and watch talks by Michelle Alexander, Tim Wise, Ta-Nehisi Coates, and many others.
I'm a fighter so at first, I argued every point made by these authors in my head. Then I stopped to listen with an open mind. At the same time, I was having more and more experience mentoring young people who were facing life without a father or felony criminal records for minor drug offenses or crimes in their youth that they had long since paid for and moved past in their lives. I listened to personal stories of discrimination big and small from close friends and family members.
I learned that when I thought "pull yourself up by your bootstraps," it ignored the fact that some people didn't have boots or straps or arms or feet. They may not even know what it meant to pull or have eaten enough for breakfast to have the energy if they did.
Basically, the hurdles I was asking people to overcome ignored the reality of their lived experience. Further, it didn't account for the structural hurdles that exist. For example, I can't count the number of times I've heard public school teachers say that they would not send their kids to public school. Think about how many children that locks out of a decent education which was the thing that my family used to achieve once we got to America.
Now I'm Doing Something to Help
I decided to do something more about it. I came up with a set of guiding principles that define the path forward to helping people of color overcome and achieve their goals and dreams.
Learn What You Need to do In Order to Succeed
Teach Others How They Can Succeed Too
Publicize the Success Stories
Shake the Haters Off
After all of the back and forth I was a part of online or in person, I'd always end up posting this as a comment or saying this is my solution.
Breaking the Glass
These principles underpinned my idea for something called Breaking the Glass. It's the plan I have to help radically improve the opportunities and performance outcomes of people of color in America and the world. I now understand and empathize with the position of people like Wise or Alexander or others fighting for social justice. At the same time, I intend to fight a different front in that war.
This mission is going to start as a podcast called The Breaking the Glass Show with TQ where I talk with successful people of color from all walks of life and you get to listen in. Together we'll learn how they achieved the success they have. Then I'll pull out the step by step and the resources they've used to get to where they are so others can benefit from them.
It's launching on September 7, 2017!
What I've learned is that many people of color don't have generations of history and mentorship around them to be the shoulders they stand on to get to the next level. Here's a comparative example. I'm a USC MBA grad who never met either of my grandfathers. Sam Darnold, the current starting quarterback for USC, is thought to be a Heisman trophy candidate and the number one draft pick whenever he decides to go pro. He seemed to come out of nowhere then I found out that his grandfather was a basketball player at USC and an Olympic volleyball player!
Now Sam had to put in the work to get to where he is. I'm not saying all he has was given to him. At the same time, he grew up with his very accomplished grandfather having a significant influence on him which had to assist in a significant way to get to where he is today. In the same way, as the kids of Beyonce and Jay-Z, Blue Ivy and the Carter twins will have very different opportunities for life achievement than the kids whose parents didn't make it out of the projects like Jay-Z did.
We're Building a Virtual Mentorship Group
Breaking the Glass is an effort to change that reality. By looking into the lives of successful people of color from all kinds of industries and professions, we will build a virtual mentorship program. In this first phase, you'll get a road map to how to achieve with a growing list of resources for success.
Added to that will be a look at successful people who look like you. The more we see that, the more it increases the belief that we can accomplish our dreams in any career field. And once you believe, we'll work on providing the tools.
We'll talk honestly about the bias they've had to overcome so you'll know that you're not alone and there is a way to move over, around or through those feelings. It'll also show how we can help improve the environments we work in so the next person may not need to go through it.
No matter what you do, there are obstacles and possibly even haters that try to stop you and the people I talk to are no different. As you see how they've overcome them, you'll learn how you can do the same.
What's also very important to me is that we can wage a PR campaign (aka propaganda effort) to show people of color in a different light than we are often portrayed in the media. So many negative stereotypes are spread that I intend to change hearts and minds with the evidence of hundreds and thousands of Glass Breakers on the show!
Help Build the Community
How can you help? First, subscribe to my newsletter and follow breaking the glass on social media. Then spread the word about what we are doing. Share the podcast episodes and articles far and wide. And if you have suggestions of who should be on the show, please send them in any way you can.
[thrive_leads id='100′]
My interviews so far include an NFL veteran who played in the Super Bowl and is now an investment banker, an Air Force pilot who competed in a triathlon and Mr. Olympia competition and now uses fitness to change lives, a woman who is a supervisory special agent with the FBI, another woman who grew up homeless and is now a doctor, another young woman who went from being on fries to owning her own Chick-fil-A, and the list goes on. Comment below or send me a name on social @wewillbtg.
This is part of building the community. And that is the next phase. We will build a community where this virtual mentorship can be taken to the next level. As we compile all of these lessons, we'll begin to help more and more of us succeed. And as we succeed, we can begin to tackle huge problems together. We will destroy the stereotypes and Break the Glass in all areas of society.
Let's go Glass Breakers!
The following two tabs change content below.
TQ Senkungu
I'm a husband, father of 3 boys, Christian, and man who learned from my parents early on that there is so much we can do to help others. My experience from the USAF Academy, serving in the military, working in my own business, as well as corporate, has taught me a ton about leadership and developing others and Breaking the Glass is a legacy project to pull all of those experiences together and give back.
Latest posts by TQ Senkungu (see all)